Finally: affordable and effective skincare with good ingredients exists.
read more >
Each time I post a Deciem product on instagram stories, I get inundated with messages about
which ones I use and like so I thought I'd do a whole post for you about my favourites.
Deciem is the umbrella brand which houses
Niod, The Ordinary, Fountain and Hylamide
to
name a few. At the moment, I'm using mainly Niod and The Ordinary in my skincare so I'm
going to take you through these. One of the things I love most about these brands is that they all
have quite scientific names. Rather than calling something a 'glow serum' it's called Copper
Amino Isolate Serum which I love because it's educating people in what they're actually putting
on their face rather than giving it a superficial name that means pretty much nothing,
NIOD
Copper Amino Isolate Serum 1%
Copper Tripeptide is a peptide naturally found in the skin, a lot of anti aging products contain
very small amounts of this (our natural production of this drops as we get older which results in
skin aging) but this is straight up Copper Peptide mixed with an activator (which you get to
do yourself and feel like a made scientist). I'm using the 1% to start and the results have been
incredible, I saw a difference in reduction of pores and fine lines in just 5 days.
Multi Molecular Hyalyronic Complex
Hyaluronic Acid = hydration. This serum contains 12 different hyaluronic compounds to give
you plump, comfortable and hydrated skin. I got my first bottle insanely fast and will definitely
be using again!
Neck Elasticity Catalyst
I'm always on my phone or computer and so Tech Neck is becoming a real worry of mine.
Again, doing very much what it says on the tin, this product is full of elastin and helps keep
the elastin fibres in your skin strong so you don't get a sagging jowl.
THE ORDINARY
Salicylic Acid 2%
The acid that fight against breakouts by exfoliating the skin, I've been applying this to specific
areas when needed. So far, can't complain.
AHA 30% _ BHA 2% Peeling Solution
I love peels. People often get scared of the word and think of the SATC episode and think it
means a red face afterwards. But this one, due to it's blood red colour gives you a red face during,
but not after! Working in just 10 minutes, the AHAs work on the top layer of the skin while the
BHAs exfoliate deeper into the epidermis. I use this once a week or when I need a serious glow.
If you use acids of any kind, but especially with peels, make sure you ALWAYS use sun protection!
100% Organic Cold Pressed Rosehip Seed Oil
The oil that converted me to oils was rosehip. Years ago I used to get dry skin from using oils
and couldn't understand why. I eventually found out that I have extremely sensitive skin and
any essential oil will make my skin react (which isn't surprising as they are allergens!). I had
heard good things about rosehip and after a few weeks was a total convert and have recommended
it to so many of my friends who are now as addicted as I am. It's great for repairing skin from
acne scars and pigmentation.
You can buy all of the products online
here,
but also there is now an amazing
store in
Spitalfields
where you can chat to the experts and find out the best products for you!
I
NSTAGRAM
|
TWITTER
|
PINTEREST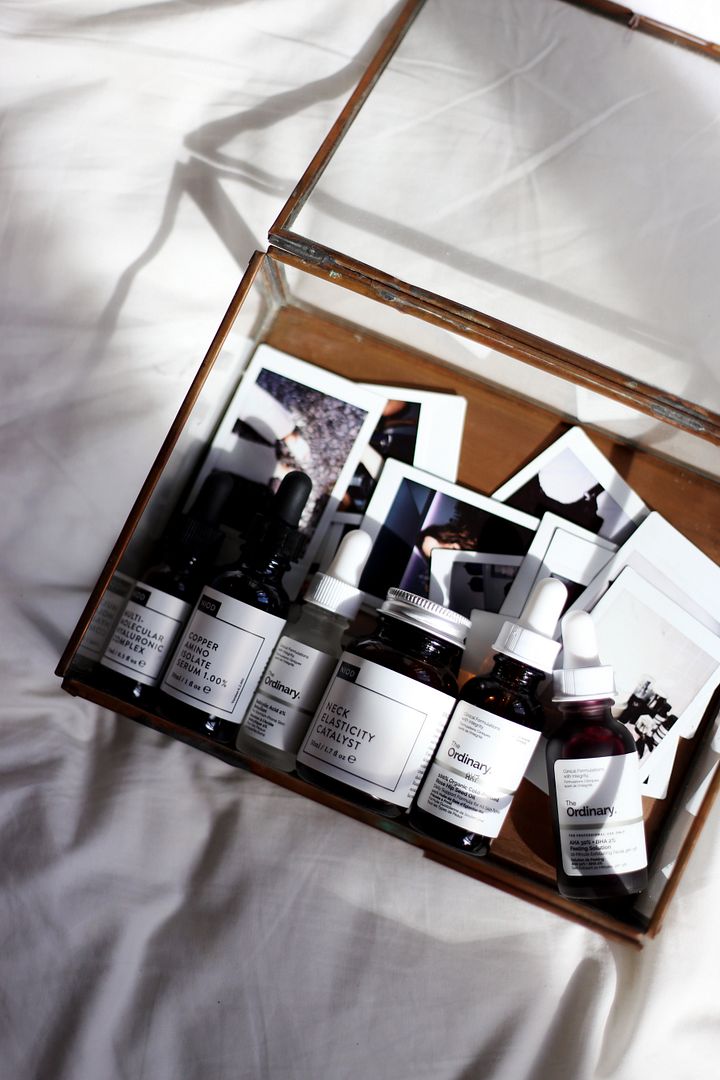 You Might Also Like