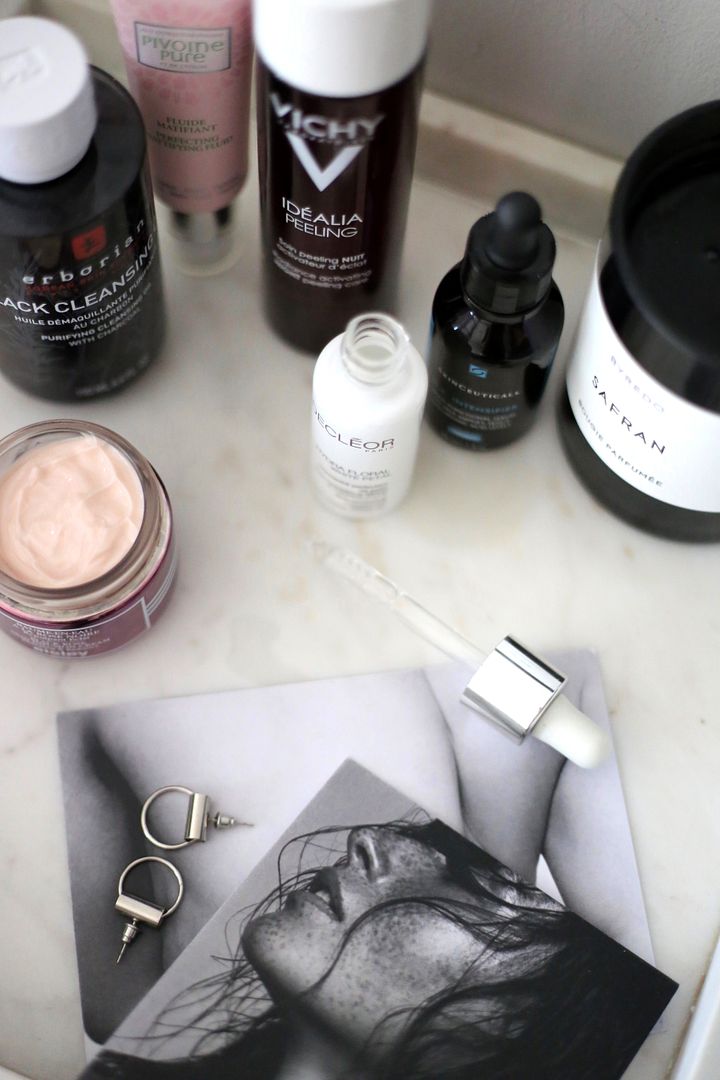 Six new skincare launches that will improve the texture of your skin.
read more >
Skin texture
is very important when it comes to having what we class as 'good' skin. Texture
can mean a whole range of things - the
smoothness
of the skin, whether it's a
matte or dewy
look you're after and how
dry or hydrated
the surface of the skin is.
There have been some new launches which deal directly with skin texture, and these are my top
picks from the bunch. The
Erborian Black Cleansing Oil
is a great place to start as it uses the
power of charcoal to purify the skin and remove all impurities and makeup. For glowing skin,
glycolic acid is a great way to exfoliate and the new
Vichy Idéalia Peeling
also incorporates
antioxidant blueberry and black tea concentrate to repair the skin - it can be used daily to remove
any dryness or dullness in the skin.
A great way to start hydrating the skin is to use an essence after cleansing, and the
Decléor
Hydra Floral White Petal Perfecting Essence
can be pressed into the skin, using gentle
ingredients such as rose and chamomile it gives you a radiant complexion almost immediately.
Another great way (in fact, the BEST way) to hydrate the skin is to use a hyaluronic acid and
the new
Skinceuticals HA Intensifier
is literally a bottle of glowing skin, thanks to its potent
blend of pure hyaluronic acid, licorice root and purple rice it improves the texture and elasticity
of the skin by 30%! It works by boosting the production in HA in the skin rather than just
applying it topically.
If it's a plump complexion you're after, the new
Sisley Black Rose Cream
is not only the
most incredible texture to use - absorbing into the skin immediately - it also uses Red Vine
Extract to even the tone of the skin.
And lastly, if you're prone to shine throughout the day, the new
L'Occitane Perfecting Matte
Fluid
is perhaps the best mattifying product I've used in a long time. I like a dewy finish, but
due to my combination skin I can go the wrong side of glow, especially in the summer. Rather
than making your skin feel dry it gives you a soft, comfortable texture which hides pores and
doesn't take away from natural, good 'glow' either.
SHOP
click on the images below to be taken directly to online stores

I
NSTAGRAM
|
TWITTER
|
PINTEREST