Emma Hoareau
March 1, 2011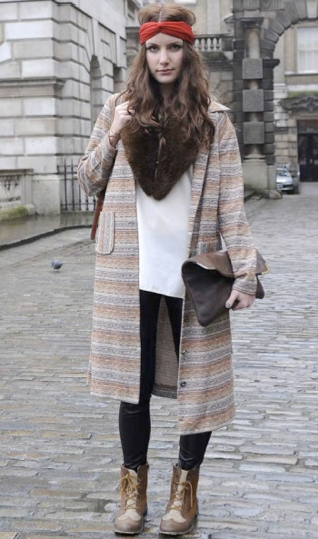 from ElleUK
from Somethings Gone Awry
(Zara leggings, Vintage top, coat, boots, stole, backpack and headband, Bags of colour clutch)
Photos from Day 2. Seems like years ago now even though it's been just over a week.
Day 1's harmless looking little heels from Zara had cut my toes pretty badly so I opted for comfort in my boots. And it was raining, so umbrella was necessary. I just decided this day wasn't one for any real street 'style'. But as this coat would have it, it turned out quite well. AND I was comfortable and dry- unheard of! (Which is maybe why I look so happy with myself in the last photo).
Very jealous of everyone jetting (or 'starring) off to Paris today, very much wanted to go. Next season!