Emma Hoareau
October 8, 2012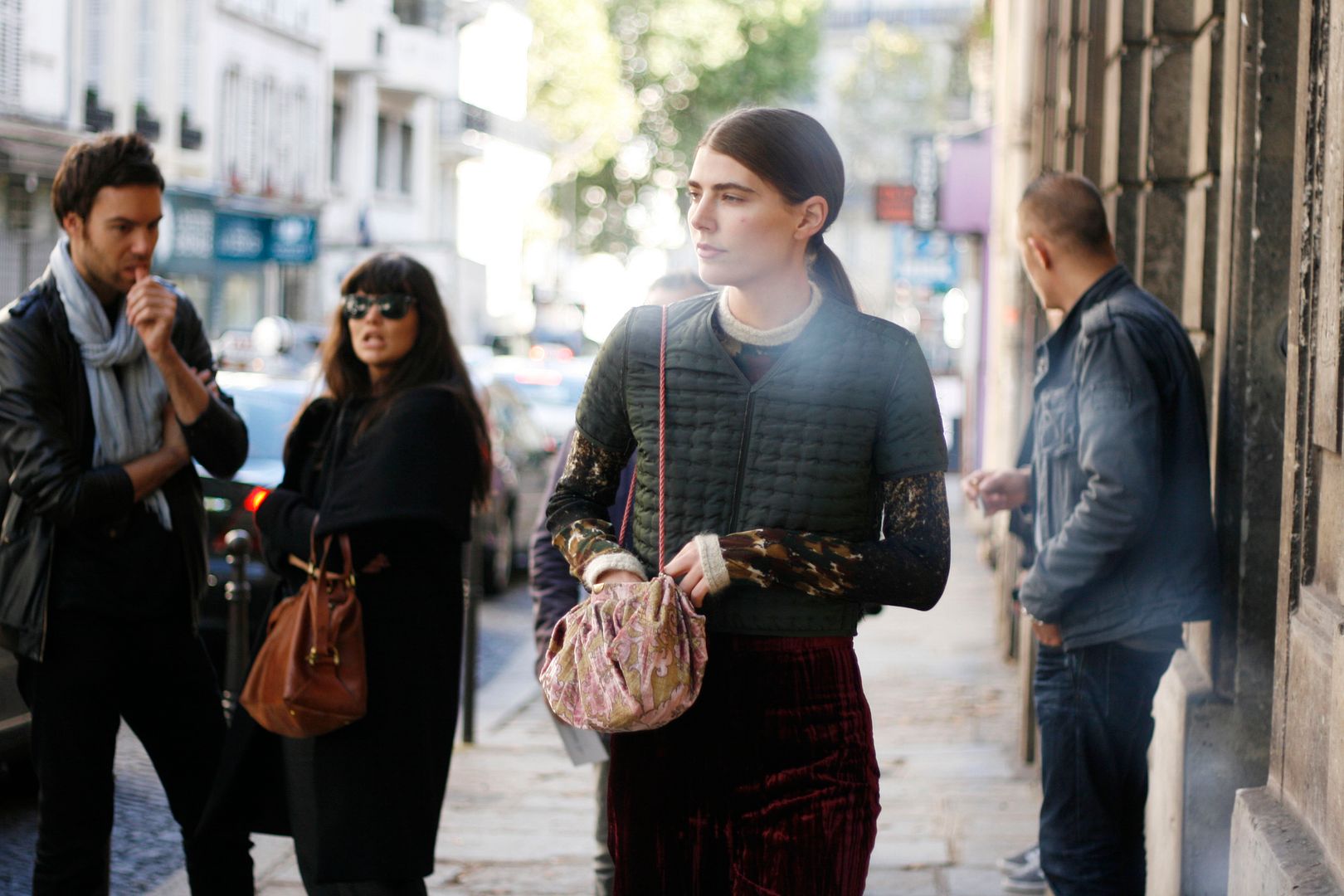 Ermmm, Emma- are you taking photos outside the Margiela show?
Didn't you say that street style photos and photographers were annoying you?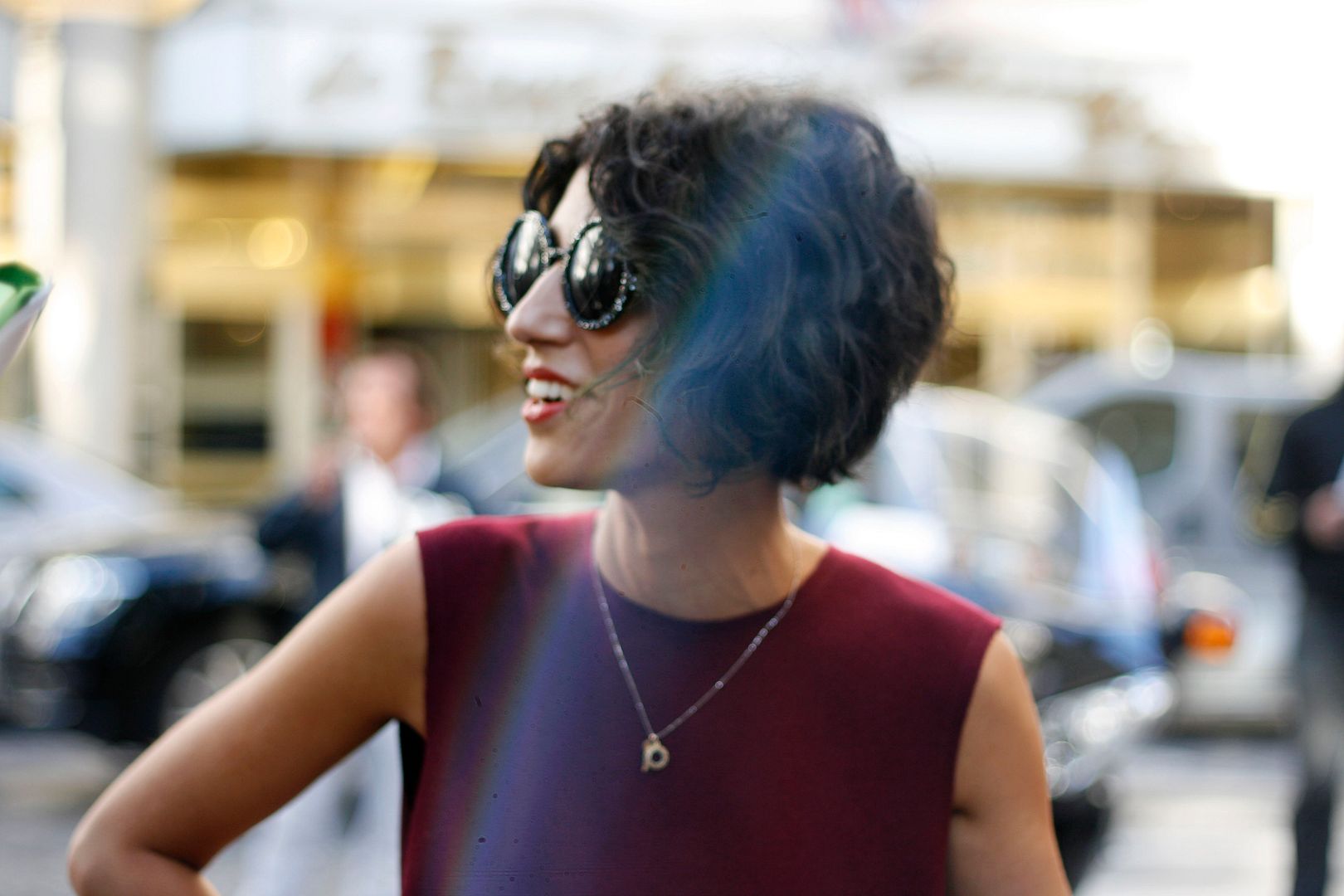 Well…. yes. I did. But I think I've finally found out what was irritating me so much.
I went to the Maison Martin Margiela show in Paris for further research after my previous
post about my experience outside the Rochas show.
I said to myself, okay- I still don't know what it is. I'm going to go and take photos outside
a show, become one of the herd. I'd spent the morning walking round Montmartre on my own
and was very much looking forward to taking some photos of people- especially well dressed,
perhaps-a-supermodel people.
Now I love taking photos, I rarely go a day without picking up my camera, so it's no huge
surprise that anyone who enjoys the clickity-click of their camera enjoys shooting outside a
famous Parisian fashion show. Of course there was a ridiculous amount of photographers
there, almost getting run just to get a shot (they very cleverly placed the entrance to the show
on a road), and there was also -of course- the afore mentioned seekers-of-some-weird-kind-
of-fame-through-streetstyle-photography.
Example:
She is really wearing everything that could possibly get her noticed, a red dress, red lipstick,
a colourful scarf over her shoulder, big bouffant hair, white sunglasses, a hat- covered in
brooches, big sparkly earrings, and last but not least that 'I've lost all self respect and I'm loving
it' pout. Of course I don't know this girl and I don't mean to be rude but… well. This girl did not
have a ticket, nor a camera, but instead a gaggle of equally overdressed friends with pockets full
of their 'cards'- for what, god only knows. Therefore, quite unashamedly they were using this as
a way of gaining contacts and getting noticed. I think this is what I and many of my colleagues
and friends have come to hate- this pretentious almost PR move that abuses the actual art
of photography, not to mention fashion. Using fashion week and the location of a show as an
excuse for self promotion. I don't like it. I feel like they're ruining the good side of streetstyle,
and certainly the reputation of it, for us. I used to quite enjoy putting on my glad rags for
fashion week but now I feel I will be stereotyped in a condescending way if I play up to
streetstyle.
I think, also, that fashion is based on exclusivity -certainly the idea of it, anyway- and if everyone
can turn up and turn the attention to themselves it somehow makes it seem pretty cheap. I'm not
going against everyone who brings attention to themselves in that way- as I said I'm not against
self promotion, and getting-in-there-ness. There are others ways to get noticed, guys. Plus the idea
of having more and more
and more
of people there each season, outside the shows… there's
more people outside half the time! It turns the actual showcase of fashion week into a sour
place, everyone is irritated by the amount of photographers and wannabee big bloggers
hanging outside the shows with nothing to do but photograph each other.
So, let me get back to the actual point of this post- how I found out what was irritating me.
After the show had finished and the majority of the post-show shots had been taken, I still didn't
feel completely satisfied with what I had learned. Was it that, actually, I loved taking these photos
and I should just shut up and get on with it? No, something was still niggling at me. So, again it
was time to talk to some people.
I just though, fuck it. Tommy Ton'll do. And Phil Oh, and Nam and Mr Newton.
I was really going for it here.
Nam– doesn't mind it all. Great.
Phil Oh– can't hate on that (the overdressed), they're just showing they're love and appreciation
for fashion. They're fashion lovers who want others to appreciate it. Fine line between 'fashion
lovers' and 'attention seekers' here I think.
Tommy– I guess they're useful when all the editors run in and we don't get a good shot so
we sometimes shoot the other girls outside. Fair enough. If it wasn't for streetstyle and blogs
etc, people wouldn't know my name and Susie (Lau/Bubble) wouldn't be sitting front row at
almost every show. Good point. The main difference between the editors and the girls who
stand outside is that editors have a job to do, although editors want to photographed too, but
they actually have to get somewhere as well! It used to be that girls would work their way up
in the business, but now it seems they can get into a show just through having online
influence.
What everyone finds annoying is the crowds of people outside shows- maybe in a couple of
years they'll have to barricade the street. Outside Ralph Lauren in New York there was police,
so maybe it'll become more like that. I've always said I'll be killed doing this- we're always
standing in the middle of the road! One day pfff! a bus will hit me, and my editors will still say-
But did you get the shot? (laughs)

Then I spoke to Mr Newton– There's so many people outside the shows that you have to try to
have your own eye. I like it, originality. And if you realise something wasn't as good as you
thought- you can always delete it! All the girls outside just want to be famous, and you
shouldn't judge an industry by copycats. The first few photographers who started doing this as a
job have done well and will continue to, the first five or so had the talent to make it and don't just
do it because it's a phenomenon that will get them noticed. They originally did it because it was
what they loved doing, not because it was the popular thing to do. I'm not driven by money or fame,
I just genuinely loved the photos that could be taken on the street. So love for the art, not the fame.
So here's the difference: people who do it for love and people who do it for recognition. Fine
line. So basically a genuine interest in a certain kind of art, be it photography or fashion. Not in
how many magazines you can get your photo into because you wore something outrageous or
how many hits your blog can get because you've got photos of famous editors.
There is a difference. It's slight and sometimes hard to distinguish- but it's huge.
It's the authenticity which gives people legitimate credit, Tommy is great and everyone wants to
be him (he blushed and denied this when I said it) and he pretty much invented the manner in
which he takes his photos- that's why (see Tommy's What's Contemporary page here). He did it
for passion, for the intrigue of it. And he's got a lot to show for that, he shoots for famous
websites and no doubts makes a good living off of it. As Mr Newton said- eventually it'll be
the finances that'll get rid of the babble of extra photographers- they won't be able to fund it,
two times a year doing fashion month in four of the most expensive cities in the world. You gotta
get paid to keep doing it.
In regards to the girls who dress up I think again authenticity is key. In the recent New York
Times article the authenticity of 'street' style was questioned- since so many of the girls who end
up the most coveted sites have been lent a huge proportion of their clothes. Designers know that
they can gain interest (and therefore, boost sales) through having their clothes photographed on
a streestyle 'star'. This therefore means that the 'street style' has turned into 'wearing designer's
clothes', taking any kind of 'street' and authenticity out of their looks, and turning them into
walking advertisements. I'm not saying they don't look good – of course they do – it just again
comes back to the idea of turning the outside (as well as the inside) of a show into a PR stunt.
Which I guess is what it is. Fashion week is there to promote labels and get them in the press
by showcasing their new designs. But I think it also used to be something else, a time and
place where people could showcase their individual and original style, not just how well they
can wear this season's Balenciaga shoes.
It's turning the art of it into business.
I think I may have just about made my peace then. It's kind a cheesy I guess- but it's true- if you
do something because you enjoy it then you have authenticity. You're not looking for recognition,
just exploring your art.